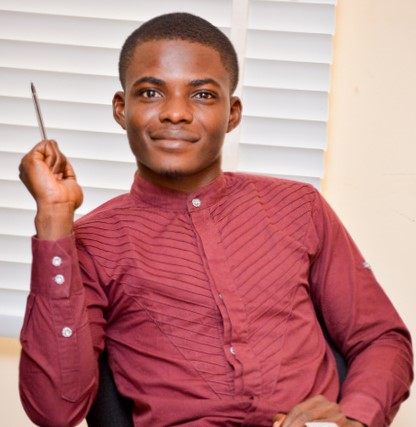 At 9 years of age Babatunde Lawal started his journey into entrepreneurship selling female scarves with a startup of 4,000 Naira which came from his savings and gifts from relatives. With a mission to thrive and leave a mark in business, he has taken this early start in business and experience over the years to the agriculture sector, setting up Siyon-Jay Premium Company.
Siyon-Jay Premium Company is an Agriculture enterprise focusing on production, processing and consultancy. With an undergraduate degree in Agricultural Economics and Extension Services, Babatunde set out to leverage on technology and innovation to improve agricultural practices, product yield and nutritional benefits of agriculture products. Over the years, his business which started out as a farm has grown into much more as the 2016 Tony Elumelu Entrepreneur is setting up an ultra-modern cassava processing plant through which he will process cassava into several products including GARRIMAX (a nutritionally enhanced Garri – Cassava snack) and as well also making fruitful research and fostering partnership to convert cassava peel waste from production process into high quality cassava peel-based animal feed limiting waste.
With over 40 million tons of cassava processed yearly and acceptance all around Nigeria, Babatunde says he felt processing was not done rightly "I have had to watch the processing of Garri in plants under unhygienic conditions and as well listened to several complaints about ailments developed from drinking and taking cassava products and I realized there's a role technology can play in this"
That desire to do things differently has seen him assemble a team which includes a nutritionist and a food scientist this he says will help monitor the quality of their products "Within the next 3months, we will be rolling out our GARRIMAX brands which will come in various sizes and preferences. In the development of this product, we have been able to factor into consideration the increasing health concerns, social awareness, weight checking (especially among females) and nutritional deficiency in other packaged garri products in the market. Our product would be fortified with vitamin A and other essential vitamins and minerals needed for the proper functioning of the body."
Babatunde has recorded success through this venture as he was recently awarded a grant of $40,000 through the Aso Villa Demo Day Initiative, this success he says he owes to the Tony Elumleu Entrepreneurship programme "The TEF enterprise tool kit exposed me to the art of pitching ideas to investors, development of business plan, building business from the point of customer's problems and skills to handle feedback"
However, he has experienced challenges of getting the right people on board and properly managing clients and staff through the business but beyond the monetary benefits Babatunde says the TEF Programme has helped him rise above these challenges "Truth be told, I cried when I was selected to the Tony Elumelu Entrepreneurship Programme, not because of the monetary benefits but because I could see Tony Elumelu believed in my idea. TEF gave me more than seed capital. TEF gave me a seed investment in my company structures, human capacity development tools, networks, product development feedbacks, business philosophies from Tony Elumelu's – TOE Way, opened me up to the importance of mentorship, the very essence of mentorship and how to leverage mentors to achieve greater results, through the T.O.E way, I have also developed business principles that have sustained my increase in the midst of business storm. Obviously, the TEF seed capital was not enough to buy all my machinery but it was well enough to build a robust structure around my company that led to the entry of larger funding, technical support and critical interests. I would say to every present and aspiring TEF entrepreneur that, TEF is not giving free money but TEF is giving a complete enterprise armoury for free"
Giving back to the community he says comes natural for him as this has been incorporated into the business with plans ongoing to set up a model called- the Siyon-Jay Cassava Out-growers Scheme (SCOS) which can empower micro and small scale cassava farmers (especially females) within the Aniocha/Anioma region of Delta state where his business is located to produce cassava roots all year-round and offer them a purchase guarantee and also get a specific quantity of GARRIMAX at a highly-subsidized rate as part of its Nutritional Inclusion campaign. In the past three months, also, he has also founded another sister company-SmartAgro Technologies Limited (an agricultural technology company) through which he hopes to launch FarmSMS service- a free sms-based technology that enables farmers across borders to share, manage and solve problems together which policy makers can leverage to bring about highly strategic impact to the agriculture industry.
Babatunde and his team are not resting on the recent successes as they are working to have the GARRIMAX product immediately after the forthcoming launch in all major retail outlets including Shoprite (world-wide), Spar, supermart.ng and also making research on how to get into established retail supply chains such that their brands can flow through such established supply "pipelines" and get into every store nation-wide as well as looking towards export by registering with the exporters' cluster in Edo state recently and an ongoing registration with the Nigerian Export Promotion Council – NEPC.
Babatunde is open to partnerships, distributorship requests and can be reached on +2348139444430 and lawal.babatundehakeem@gmail.com