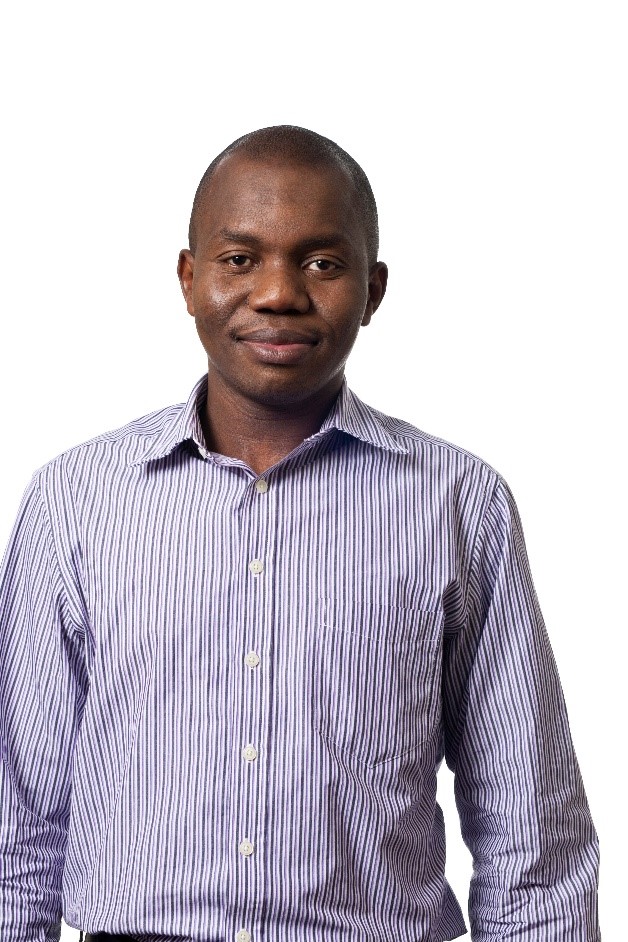 I am one of the fellow citizens Tony Elumelu has mentored. I want to thank you for your keynote in Wharton Business School 6 years ago and also the access you have provided over the years. After that talk which I chronicled, I made the decision to move into business.
On May 28, 2015, I joined you for a dinner in Transcorp Hotel Abuja. I crashed into your dinner and asked for your 5 minutes. I had flown home to get a sense of the new direction of govt to help update my company strategy. You cleared some of the confusions.
I formed a new subsidiary, a company that makes sensors using artificial intelligence to helps farmers improve yields by telling them what, how and when to farm. The largest fertilizer maker in the world awarded it the AgTech Startup of the Year two months ago.
Today, the Rice Farmers Association of Nigeria awarded us a major contract to assist its farmers in Nigeria. Government is supporting them.
On behalf of my family and all the young people who work in my firms, I sincerely want to thank you for your kindness, and inspirational devotion to build a better Africa. Thank you, Sir.
I am very happy to learn that I am one of the 1000 selected candidates for 2017 class. My joy to be part of this powerful program can not be emphasized
I am so grateful for your trust and belief that I can contribute to the growth of African economy
The process was challenging and logical and I see that as positive improvement for entrepreneurs.
The foundation offered me a stepping stone to thrive further. As I speak now, am involved in social entrepreneurship ventures where I'm inspiring, offering mentorship and skills training to more than 1000 youth in my community. This was only made possible through inspiration and training from the Tony Elumelu Foundation not forgetting the boost from the seed capital
The experience was great, interesting and thought provoking! It gave me better business direction, have a definite business plan, strategy and focus! Thank you, TEF
The TEF Alumni network is a priceless tool with the potential of making any average business an instant success and I am proud to be a member.
I submitted my application! I must say every section is worth the time and concentration I put into it. Answering all questions in regards to one's aspirations of being an Entrepreneur is inspiring and educating. An experience I'll relish forever.
You have no idea of what I felt after receiving my seed capital alert today. I'm simply humbled.
Filling out the form was quite tasking, but it was such a good experience
Can't wait to get admitted into the 2017 cohort of #TEF2017 in order to expand my horizon and deepen my interest for Entrepreneurship.
TEF Entrepreneurship Programme has made me see the light where darkness reigned
Before now, i thought i knew how businesses should be run, how business plans should be written. However, my experience with this TEF application has been humbling
The TEF Entreprneeurhsip Programme application has opened my eyes to a lot of possibilities, accountability and precision.
I have just received my seed capital and it has made me even more ambituous. Mr. Tony Elumelu can't demystify the level of impact he has made in my life, the continent and the world in general
The TEF Entrepreneurship Programme has brought a new dimension to my business and has made me hungry to serve Nigeria
The Tony Elumelu Foundation Entrepreneurship Programme's 12 weeks of training was engaging and interestingly educative
I came into this program thinking I knew a l ot about business, now I've learnt a lot more. Thank you
The business value of the TOE Way has left me with an open mind and allowed me focusing on business. I appreciate Tony Elumelu for his great deeds
It is hard to believe that I am among the 1,000 Africans selected out of
45,000. I am honored and ready to transform Africa
It's time to change the world with my idea. Thank you Tony Elumelu, for
this life transforming initiative.
Thank you Sir, Tony Elumelu . You just woke up a dying and starving dream.
TEEP has offered me a life transforming opportunity and I intend to maximize it to the fullest. I will not disappoint.
Getting selected for TEEP rekindled the life in me. It is the most
exciting moment in my life.
I can't thank Mr. Elumelu enough for giving me the opportunity to believe in myself
I feel even more motivated to pursue my dreams since I have been selected
and I can't wait to get going with the 12-week training.
TEEP has given me a shoulder to lean on and wings to fly with.
This is the time for African Transformation and I am happy for being
part of it by participating in unique TEEP program in the continent
I am grateful for being selected for TEEP2016. Proud to be part of TEEP
a special program to transform Africa by Africans
Being selected alone is enough catalyst to keep me pushing on for the
realization of my dream.
Seeing my name on that list of 1000 entrepreneurs was incredible and in that moment it gave me confidence to keep on the keeping on towards transforming Africa.
TEEP is now creating an ecosystem for me and other winners to explore
and use our potentials and capabilities to transform Africa.
The acknowledgement by TEEP is something that I will cherish throughout my life
and always look upon in those times when I feel low
There are key defining moments in a person's life. TEEP is one for me
TEEP has been a defining moment for me; filling me with a great sense of self-worth and a can-do spirit.
TEEP is an initiative that contributes to a country's economic growth and development
Thanks to TEEP, my business has now acquired most of the resources we lacked.
TEEP has helped me set up my goals and focus on the way of doing business
The business training and mentorship was timely and inspirational
TEEP came into my life when I had lost all hope. It was my call to duty and self realization that I can do all things only if I believe.
It's a terrific experience for me to find a network of like-minded people encouraging me to carry on.
Applying for TEEP gives you the total picture of your business.
I have discovered many things hidden behind my idea through filling out and submitting the TEEP 2016 application. I have already gained from the Foundation.
The application procedure kept me up day and night until I finally finished and submitted. Everything I learnt was worth the time I used to fill that application.
Going through the TEEP process was a great experience for me because my ideas and goals are now more realistic and visible
TEEP is a program that truly understands Africa's business start-up ecosystem
TEEP is an opportunity all young African entrepreneurs should seize
I thought I knew everything about business because I went to business school. TEEP is more practical than business school.
TEEP has given me the power to negotiate deals and manage my business more confidently
The most important aspects in TEEP is the education and mentorship.
TEEP is the opportunity to work, the opportunity to hope, the opportunity to escape poverty.
The Tony Elumelu Entrepreneurship Program has transformed my dream into reality
To me, TEEP means OPPORTUNITY. Most people have brilliant business ideas that never take off. TEEP offered an OPPORTUNITY to make my idea real. What an OPPORTUNITY for us.
TEEP2015 gave me my first business mentor, my first seed capital for my business idea, the rare opportunity to make business contacts across Africa and my first time visiting West Africa.
Through training and networking TEEP 2015 unleashed the entrepreneurship mind in me. I am now focused on making sure that my business succeeds through hard work and commitment.
TEEP is the energizer of my Honey Processing business. Without TEEP I was not going to implement my business idea!
TEEP means a lot to me, my personal life, my mentality towards business, TEEP2015 makes me to believe there is no impossibility in life. Thanks Tony Elumelu Foundation.
I now have access to the biggest entrepreneurship alumni network in Africa. What else can l ask for?
From the bottom of my heart, I would like to say a very big thank you to Mr Tony Elumelu, & TEEP team for selecting me to be on the panel. I really learnt a lot and felt honored.
I've always heard that Information is power, I didn't understand exactly what it meant till I consumed all the information that was fed to me during the MLP, being mentored and interacting with other brilliant minded entrepreneurs in Africa
TEEP is a Pan-African initiative that ignites the entrepreneurial spirits of African Young Generations
TEEP met me at a low point in my life and it made me regain faith in myself and renewed belief in my dreams
TEEP is the room where IDEAS meet EXECUTION.
TEEP represents the hope and future of Africa.
Tony Elumelu Foundation has empowered our commitment to put smiles on the faces of environmentally responsible citizens by creating value from their everyday waste
TEEP was the tipping point for me to realize that I have something going on and that I need to move back to Ghana.
Mr. Tony Elumelu is a true example of what African leadership should be.
I am so grateful to the Tony Elumelu Foundation for the opportunity to actualize my dreams
I am delighted to be a Tony Elumelu Entrepreneur. The foundation's support both financially and in recommendation has been instrumental. I am indebted to Tony Elumelu.
The seed capital has helped us to restore our production line. Much thanks to my hero, Mr Tony O. Elumelu, our great CEO, and to the great team at TEF for all the opportunities.
The Tony Elumelu Entrepreneurship Programme has been wonderful for me. I have now acquired an office space, created 5 Jobs and 2 employments & developed my company website and online gallery shop.
The Tony Elumelu Entrepreneurship Programme's electronic platform is innovative! The platform is remarkable and extremely useful tool.
Indeed TEEP has brought a great illumination to my innovative mindset.
My life has positively changed since I received the seed capital. My business is doing extremely well and I have now employed 3 people. Thank you, TEF
I lack the right words to thank the TEEP Team and Tony Elumelu, CON not just for the seed capital but believing that I can change Africa. Thank you!
I am a Tony Elumelu entrepreneur and I'm going to transform Africa. You've sown a seed of greatness. I promise to make you proud. Thank you very much
We are particularly inspired by Mr. Tony Elumelu's visionary belief that our collective ideas will transform Africa!
Participating in the Tony Elumelu Entrepreneurship Programme is my greatest achievement this year.
With the Seed Capital received, we have now set up our poultry project which employs 3 permanent staff and 10 contract workers every month. This is only the beginning. Thank you TEEP
If only we could have 5 more Tony Elumelu's, Africa will be a continent to be relied on by the world
Words alone cannot express what the Lion King, Tony Elumelu has done & is still doing in this generation. It's just dawn!!!!!!!!!!!!!!!
The seed capital from The Tony Elumelu Foundation has helped my business! We just bought a restaurant located at Teshie area of Accra. We also plan to set up our food processing factory here in Accra
With part of my seed capital, i have been able to complete all necessary documentation of the land. I can now proceed with my cassava plantation. This great achievement has been made possible by the great man, Tony Elumelu. So excited to be part of this great TEEP journey.
I would never forget my TEEP experience, because of this opportunity I believe that my journey as a fashion designer can inspire others and someday help others start their own entrepreneurial journey.
The Seed Capital came to restore my lost hope of travelling to exhibit at Bari international trade fair in Italy! Thanks a million times Mr Tony Elumelu.
My company didn't have a modern grocery shop. Now I have opened one in a gated community with 150 housing units. My online shopping website is coming up very soon. Most of the first three months milestones have been achieved by 85%. Lets build Africa.!
TEEP has contributed immensely to building my confidence level as an entrepreneur
The Mentorship & Learning platform built my leadership & business skills and I have been able to acquire so many things for my business.
It was like a dream when I was undergoing trainings that worth millions of Naira for free. Fast forward and we are able to get a bigger land to enlarge our scope with the help of the seed capital from TEF. I promise to be successful and touch lives too
My dream has become a reality with the seed capital from the Tony Elumelu Foundation. Many thanks to you Mr Tony Elumelu and your team.
Tony Elumelu saw me hoping to be great, he felt my pains and now I am a proud successful entrepreneur. By God's special grace, I will not let you down, sir.
I almost lost hope of having a business boost and almost settled for less, but through this programme, the training and mentorship has really opened my eyes. The seed capital has come at a very good time and is multiplying well.
This seed capital is affecting more than a thousand lives. My business was in an idea stage. Today, I am a proud owner of a working poultry farm. In 10 years from 2015, I will make Tony Elumelu proud.
With the first half of the TEEP seed capital, the mileage my company has gained in 3 weeks is more than what I achieved in prior 6 months.
This month of September has seen record sales and record production for my company due mainly to the receipt of my seed capital. Also, I gained the support of someone I had been courting for years to invest in my business. When she heard I was part of TEEP, she promptly released two cheques for purchase of shares in my business, a significant injection for financing long term capital items. To say I'm happy with TEEP is a woeful understatement!
Tony Elumelu is my 'Moses.' He bravely took the risk to show me the way to the top and i am eternally grateful
With all the training on the MLP and the of the seed capital received, I am doing better than I imagined and the sky is the limit
I have received the 1st half of my $10,000 seed capital. I just bought a factory land and have commenced the construction of my agro-processing factory to produce cashew nuts snacks
Following the receipt of our seed capital, Arojintech has been able to launch it products variant, successfully partnered with 3 companies & employees status has risen from 11 to 20.
Benefits from TEEP are very great! My business has now established a Secretarial service which means more income coming into our enterprise!
Tony Elumelu has travelled this entrepreneurship route and knows how difficult it is to start a business without funding. He is my role model, mentor & I would love to follow in his footsteps to make Africa a better place.
With the first half of my seed capital received from Tony Elumelu, I have started running my business and most importantly work has started on the 'accounting application on tablet pc' product targeted at small and micro enterprises. Indeed TEEP has brought a great illumination to my innovative mindset.
I want to say a big thank you to Mr. Tony Elumelu. Not just for the seed capital, but for the learning. Knowledge is power. In this moment, my business plan has changed. We had to restructure everything concerning the business plan. Thank you for everything.
I thank my big boss, my role model, trail blazer, mentor, coach, great man of integrity, an icon of honour, Mr Tony O. Elumelu. Words are not enough to express my profound gratitude to God for knowing you and being inducted into the alumni. You have given hope to businesses and touched lives with your actions and investment.
I just got my seed capital and I have paid for an extra machine added to some raw materials. By the end of the month, the automatic machines will be ready to increase my production. I have made up my mind to replicate this in the nearest future, my prayer for you is that God will continue to strengthen you, grant you wisdom, grace and ability. Thank you sir. I also want to thank admin for all the great work. I will replicate this gesture in the next 10 years and make you proud,
The journey which started with an idea has really taken shape. I received my
seed capital last week. Indeed,my implementation plans are well under-way and i am ready to make Tony Elumelu proud.
Thank you for the opportunity to visit Nigeria, to meet and network with a diverse range of individuals and peers and the experience!
What a reality! It began like a dream but now a true and touchable reality. Having the beaming vision in my heart transformed to an African and Global business is a giant stride. One made possible by Tony Elumelu and Tony Elumelu Foundation. I am deeply grateful.
With a heart full of joy and mouth filled with prayers for you all especially the Founder of TEEP, Mr. Tony Elumelu, I say a very big thunderous thank you for receiving the seed capital of $5,000. I am indeed very grateful and I pray God will bless TEEP exceedingly and surprise you all with an outstanding miracle before this year 2015 runs out. You have done this with a heart of expectations towards the best of my company, so shall God bless you with exceeding miracles.
I am a product of Little Saints Orphanage where I grew up since I was 12 years after I lost my father at age 2 and my mother at age 10 to blood cancer. I hawked pure water and snacks on the street of Ajegunle with no love, care and support from anyone, I lived with my family at the backyard of the church with 2 goats, I became a househelp to one of the church members who will constantly tell me that I will never be successful in life because I am an orphan, saying that there is no future and hope for an orphan child. I dropped out of primary school so as to hustle for my family. I grew up with this mentality till I was brought to Little Saints Orphanage 2 years later and my life changed, went to one of the best schools and was given so much love.
In 2012, I graduated from university with a second class upper in Sociology, I am the CEO of Mo Eva's World Limited which I started in 2013 and have won multiple awards.
I am saying this story because in my field of entrepreneurship, there has been no help in terms of finances, I have been running my business on life savings and profits from my business. This TEEP Seed capital will really go a long way in terms of funding and upgrading my business to higher level. I promise to use this wisely and grow rapidly with you not forgetting to TRANSFORM AFRICA which has been my aim.
Thank you and God bless you. I am grateful
Many thanks to Our Benefactor; Our Promoter; Our Brother, the True son of Africa, a philanthropist whose doggedness and magnanimity has unprecedentedly blessed our lives and set our feet to greatness!
I want to say a very big thank you to Tony Elumelu and the entire foundation for believing in me and for the delivery of their promise. I promise to make you proud. If we have 10 people just like Tony Elumelu, Africa would be a greater place to live in. You are the best
I wish to express my sincere gratitude to Mr Tony Elumelu and the entire Tony Elumelu Foundation crew for a promise fulfilled. I have received my $5000 seed capital. I promise to not let the Foundation down. May God bless you all.
I got my seed capital and it's so heart-warming. Now Eyez Alive Clinic can kick off in Lokoja, to address the need for quality, accessible and affordable eye care for rural and urban populations in Africa. Tony Elumelu will be remembered for laying the strong foundation for us.
With pride today, I have paid USD 3,800 to import the first car for my transport company. This vehicle will be used as an inter state taxi, which is an emerging business in my country targeting business people who like to travel faster between states. I am convinced that within 6 months, i will start breaking even. I believe if the Tony Elumelu Foundation could change me, then through me 5000 more people can be changed. The dream of the Chairman must be carried on and Africans must be convinced that there are people here in Africa willing to spend a lot to create that change.
Wow! I just cant contain the joy within me, so it is true at last, all I just want to say is a big thank you to TONY ELUMELU and the entire team of the TONY ELUMELU FOUNDATION. Sir, may God continue to bless you for believing in us young people (entrepreneurs) in Africa, and for trusting us, we will not fail you, will not fail
Nigeria, we will not fail Africa.
From the depth of my heart, I say a very big thank You to Mr Tony O. Elumelu and members of the foundation. I have received my Seed Capital and I pray that God shall continually bless you all with unfettered unction of fruitfulness.
My sincere gratitude to the Tony Elumelu Foundation for having taken this bold step in helping me as an entrepreneur be able to start delivering to Africa. With Tony Elumelu Foundation, we are taking Africa a leap forward.
Thank you so much and God Bless Tony Elumelu and the Tony Elumelu Foundation team.
I would like to say that I have received my seed capital and I am so excited. I would like to thank you for your continuous support for entrepreneurship and Africapitalism. Now, I will be able to implement my business idea and in turn change Africa.
Tony Elumelu, we sincerely thank you for believing in us, and also believing that we can change Africa's history. The talent in Tony Elumelu Entrepreneurs is unimaginable. I see a new Africa in the face of all those that attended the boot camp. Coming in contact with you personally boost my morale and have completely change my way of thinking. I am more positively inclined and highly optimistic in taking up all calculated risks during the course of my business. We love you Sir.
Many thanks to Mr. Tony Elumelu and TEEP for creating this super benevolent platform to midwife a generation of entrepreneurial dreams
My appreciation goes to you, Tony for doing a marvellous thing and also meeting up with your promises after a short time of establishing the Foundation. This should be respected by everybody. I wish you the best.
I was very delighted through out the boot camp, your book The power of vision is my second daily devotional am determined to read it chapter to chapter. Your vision and dream is infectious. You have given a lifeline to my business.
Thank you Mr. Tony O. Elumelu for putting a smile on our faces. You are God sent. All I can say is God bless and reward you. Remain blessed forever.
Thank you so much Sir. I was amazed at your selfless approach to our questions and requests at the boot camp. You shared with us from your depth of experience as if we are peers. Thank you once again. Your gesture has united us all and taught us to be selfless. Great Africa!
Mind-blowing, record-breaking, a leap that will be difficult to match! God bless you for the trust in us young Africans, sir. We will not disappoint you!
Thank you so much, Tony. You have given us the opportunity and the platform. It is now upon us to keep the fire burning. It's time for the African lion to take its place.
It was indeed a wow experience. I had an opportunity to meet dignitaries and networked with men and women from all over Africa. I couldn't have met these people if not for the TEEP 2015 Boot camp. Thanks for all the lessons learnt from the TOE way. God bless Mr Tony for making this dream a reality. Rather than giving us fish, he has taught to fish and fish limitlessly!
After listening to Tony Elumelu, Parminder Vir and all the speakers present, I realized the immense responsibility in my shoulder to make Mother Africa proud. I know it is not going to be easy, but with your inspiration and support, I have no choice but to succeed. I will forever remain indebted and Mother Africa will forever remember you. Karibu Kenya.
Thank you sir, it was one of the greatest entrepreneurship conference in the recent history. Welcome to Nairobi, TEEP Kenya Chapter is eagerly waiting we discuss our business plan and strategies of attracting investor capital. You are our GES Ambassador. I was surprised how humility and inner peace was strongly evident in your life. You are our role model, you are Nelson Mandela of our times. You are blessed and honoured.
I can't thank you enough for giving us this opportunity. The MLP and boot camp were highly impacting.It has afforded me opportunity of developing my self.The networking opportunity afforded by the Bootcamp is second to none. I must also commend your humble nature.Interacting freely with us and answering our questions.History of Entrepreneurship in Africa will be incomplete without TONY ELUMELU!
The boot camp was indeed an awesome and memorable time. Great insights on entrepreneurship and networking. I am so fired up now to make a difference and rule my world. Thanks Tony Elumelu for the selfie that was so thoughtful of you.
Thank you so much Mr Tony Elumelu, attending the Bootcamp was a lifetime opportunity for me. Meeting great minds of our generation also the honour of seeing you in person was phenomenal. Africa is going to have a lot of successful entrepreneurs through you Sir.Africa for us.I salute you Mr Tony Elumelu. My gift to you at the Bootcamp of my countries map with hands on it was to extend my greatest appreciation for turning around my life and Africa at large. May the Lord abundantly bless you.
The boot camp for me was like an awakening...it was one of those moments in life when you finally identify & define your true purpose in this world. Thank you so so much Mr. Tony Elumelu and my sincere appreciation to the great people who sacrificed during the 12 weeks MLP to make the experience a success! I am a changed person already!
Dear Tony and the Foundation Team,
We are humbled by your INSPIRING course towards Empowering Entrepreneurs.
Many times in the Journey of an entrepreneur ,we Often doubt Ourselves but YOU BELIEVED in Us, you Re-Ignited that Fire in Our Belly to Ensure that Failure is NOT AN OPTION!
We wish you Good Health and a Long Life to Continue touching Lives for that's the Sole Purpose in Life!
Proud to be part of Pan African dream. Mr Tony, you disturb your comfort zone, to touch our lives across Africa, May God bless you.
As a young struggling entrepreneur, people like Tony Elumelu gives me great hope that our aid to success will surely come.
I got back to Eldoret safely after such a productive boot camp. You people are
just wonderful and I simply don't know how to sufficiently express my
gratitude.
I note with seriousness that Mr.Tony Elumelu expects us to succeed by working
hard, remaining focused, being diligent and resilient and ensuring that we do
everything possible to succeed in our businesses, thereby making him proud.
I must make Tony Elumelu proud.
TEEP has impacted tremendously in my business life and I can say its a game changer in Entrepreneurship in Africa. I got more than a business school could give in the 12 week training and mentoring programme. Kudos to TOE and TEEP team for this wonderful programme. See you at the boot camp. God bless
During the TOE Way Business Value for 12 weeks, I have learnt alot in establishing my Catering businesss. As I complete the extensive training and also attending the bootcamp, I am armed with all the necessary information which I have to put in place in order for my business to flourish. Once again God bless you Sir and your team for the excellent you are doing to transform lives.
Well done Tony Elumelu. You have most inspiring. Your TOE way inspirational have really helped me even at meeting the challenges of my work as a doctor. I almost gave up on the TEEP programme due to the demand of my job. But everyday, i open one TOE way i go back to the business plan. Instead of complaining at the hospital, i focus on how to turn the challenges around into a good business. OMS Diagnostics and research centre will definitely come on stream
The TOE Way Business Values has been a wonderful dream transformer.
This programme has been a life changer.
If there's someone who has grown and benefited from the training, it's me! Thank you for believing in Africa
When I found out I was selected for TEEP, I was excited and humbled to have the opportunity to learn from one of my heroes Tony Elumelu.
Only the mentoring I have received during this 12 weeks period is far valuable than money. Don't worry Sir, we will not fail this litmus test.
I want to thank TEEP for this opportunity. I can't hold this excitement. I am delighted to say that I applied one of the networking principles we learnt last week and managed to secure a meeting with one of the biggest potential customer. This is very important to us because we have been trying to get this meeting for the last eight months without success. We are really excited and wish TEEP a long life to continue mentoring entrepreneurs.
The TOE Way Business Values are by no means values that every aspiring business person or existing business person must develop and embrace for business success. Thank you so much.
On TOE way, I have benefited so much from the programme, one of the most important lessons i learnt is not to give up on your dreams, it is never too late to actualize what you want. Mentorship is the key to succeeding in business and I learnt from the very best. The journey was rough and rocky but now am coming out stronger, better and more enlightened! Thank you so much for this wonderful opportunity.
All of your business values have taught me how to be flexible, accountable, hardworking and proactive. You have helped me to become a better listener, researcher and solution provider. Thanks for building us through TEEP and through your priceless business values. God bless you imensly!!
I enjoyed the TOE Way business values. Week 5 on Branding took me off my feet. I learnt how to give my business an identity. Thank you Tony O. Elumelu
This 12 weeks have the amazing l must say. l have really learnt alot and its been quite overwhelming.
Being a TEEP winner is an achievement I would say. Fundamentally, my business will now have a CEO/founder (myself) who is much more equipped to manage this company after the duration of this programme, which has already shown to be educational and thought-provoking.
 I watched my acceptance video in disbelief. It was surreal. I almost thought someone was playing a prank on me. Making it, out of 20,000 other African entrepreneurs, was a great honor and I could not stop thanking the Almighty God. I immediately called a few people who are close to my heart and shared the good news. I knew this was the first step of a victorious journey.
They could have just given us some money and left us to do whatever we pleased, but the Tony Elumelu Entrepreneurship Programme is beyond the capital. They have taken me from where I was with my business and are slowly but surely, molding me and my business into a fortified powerhouse  that can stand strong and be a leader in fashion in Africa.
With the Tony Elumelu Entrepreneurship Programme, we will have enough support to accomplish most of the goals we have in place including launching the platform and attracting pioneer users.
Thankfully, being part of the Tony Elumelu Entrepreneurship Programme, we get assigned a mentor who is seasoned in the African business climate and brings a wealth of knowledge that will help me avoid pitfalls. With their help, in the coming year, I expect aggressive growth for my business.
The Mentorship learning Programme is so insightful in building a real true understanding of how businesses should be treated from a point of understanding as opposed to our businesses yesterday where you are doing it because you want to be busy
It is my humble prayer that these ideas gathered from your Foundation will help
us all build strong businesses which will grow for ages. Thank you.
Mr. Tony Elumelu, this is a wonderful and superb program. I am really finding this extremely helpful especially where we are admonished to keep financial records from day one. Thank you once again for this platform.
Great. I am following! So much to learn from you. Thanks.
The learning process for me has been very informative and has helped me have a
clear picture of what a good and profitable company should look like. Thank you
very much.
This article simply outlines the tenets of success. It is what it is and there is no by-passing it.
Thank you Tony Elumelu. You are among the greatest people of our generation. I am proud of you sir. Thank you for this.
With this program, I am vindicated and even eager now to be more meticulous in all my dealings. This is a very important lesson, a life skill that will propel me up the ladder of success for my business and other areas of life.
The Mentorship Learning Programme has provided me with key skills to professionally improve my documentation and approach in how to professionally handle accounting and legal issues on my business. Thank you!
The MLP weekly tasks have helped me so much. l now have clearer picture of what it
takes to be an entrepreneur. Thank you!
This program will go a long way in shaping me as a person and also my business. Still learning from the master himself, Tony Elumelu.
I am pricked! I have a point of weakness here. This article is helping me to become a better note taker, pay better attention to detail, become an archivist, professional and thorough.
I am inspired by these articles. This is a wonderful attribute of a great Entrepreneur like Tony Elumelu. Thank God we are now his flock and He is shepherding us by giving us all the directions and care to become great Entrepreneurs like He is. Mr Elumelu, God bless you richly.
Thanks TEEP for everything. This kind of program can really change Africa.
Thanks TEEP for all the important things I have and am still learning. I now know that it is the METICULOUS DETAILS that will set you apart in whatever you do.
This week's piece on being meticulous is actually the ideal thing, a very good attribute expected of an entrepreneur who aspires to be successful in his business. it's a good information worthy of note.
I don't know any business school, where I would have gained the knowledge on entrepreneurship that I am acquiring from TEEP 2015 Mentorship Learning Programme within this short time. It is indeed very awesome.
Consensus will never be overemphasised. Team work is the key to every organisation. Great article. Thank you Mr. Tony for this wonderful program. Learning a lot of things.
Very interesting. I'm learning so much from these Mentorship Learning Program articles. Thank you so much.
In fact, I bless the day I won TEEP 2015, since then, my business has moved to a new dimension, with the online lectures with our mentors, and the way and manner in which we enjoy some experiences through exploring LinkedIn, discussions on the forum, and discussions with fellow participants. We are very grateful. It has all been very helpful to our individual businesses, all these things put together, I know our businesses are going to a very greater height. Thank you very much sir, God bless you
The TOE Business Values are the best all-time mind-sticking principles.
I am hungry to learn and fully copperplate with my fellow entrepreneurs.
Thank you Mr Tony O. Elumelu and TEEP for this precious advice. From now on, I will seek consensus even in such scenarios.
It was a lifetime achievement being selected amongst the inaugural winners. I believe this is life changing moment which will enhance my business knowledge, also transforming my business into a household name in the industry. Thank you once again Mr Elumelu in believing in our potential. It is my hope that one day l also empower the young generation and continue making Africa a better continent. FORWARD EVER BACKWARDS NEVER.
The TOE weekly business values, is inspiring and full of insight. Its a handy resource material for any upcoming entrepreneur. Thanks for sharing.
Initially, my thought about branding and design was vaguely established but after this week's tasks, l now have better idea and clearer picture about my brand and package. I remain grateful to Mr. Tony O. Elumelu and the crew members. Thank you all!
This week, I truly enjoyed looking at the branding and the packaging side of my concept. I learned a lot and continue learning. I am looking forward to keep up the momentum and complete few tasks that are outstanding.
I have leaned a lot on the TOE WAY from 1st to 12th weeks of TEEP Programme. It has opened my eyes to some business details and ideologies. In fact the spirit of entrepreneurship, leadership and business management coupled with time management derived from the TOE's have been beneficial to me. Indeed, I will put all the inferences into use in my business career.
In fact, I blessed the day I won The Tony Elumelu Entrepreneurship Programme 2015. Ever since, my business has moved to a new dimension with the on-line lectures with our mentors.
Thank you for hosting the most successful African Entrepreneurship Conference
including the Bootcamp. I networked with most of entrepreneurs across Africa.
Highly appreciated, thank you.
I have discovered that i was just venturing into business world without
any knowledge on business. The lessons so far is a serious eye opener to me. As
a beginner in business, mentoring is very essential to me
Indeed, this Mentorship Learning Programme is an eye opener. It has helped me to streamline my solutions to focus on the problems of existing and potential poultry farmers who will benefit from my poultry seeds and poultry farming training
It has been a very thought provoking week and I have learnt a lot of things. The Mentorship Learning Programme is a wonderful platform for entrepreneurs to build on both their knowledge base and enhance their business ideas.
My special thanks to tony elumelu foundation for this programme , after the lecture
yesterday (online meeting with mentor), ì immediately saw where I have been making mistakes since all this year's , I think with my mentors advise, I'm going to get everything
right thank so much sir.
TEEP is the mother of all entrepreneurship programs in Africa.
About six months now I have been carrying this business idea not knowing where to get funding t start it. Now I have something to hope for and I dont see why I should not thank TEEP for that chance.
Its a great opportunity for entrepreneurs to accelerate their businesses growth and maximise their businesses' potential.
This is the visionary leadership we need in Africa. "Africapitalism" is what will drive the growth of Africa. Huge ups to Tony Elumelu for this visionary step. Young Africans like myself are challenged in your line of thought and works. God bless you!
Am very excited to witness these days. Africa is rising and we are shining through enterpreneurship! Thank you for the opportunity. Let's create AFRICA of our dream!
Entreprendre est la meilleure facon de lutter contre la pauvrete. en entreprenant vous etes une solution financiere pour vous meme mais aussi une opportunites pour les jeunes chomeurs.
We are grateful to the Organizers of this foundation, Rome was not built in a day, gradually, Africa will be there.
This is what a person does when they say they love their country/continent, a great opportunity for all African youths. I want to say a big thank you to the Tony Elumelu Foundation.
Amazing opportunity... I look forward to expand my business and help bring Kano and Northern Nigeria into the 21st century digital world with the help of TEEP
When we the youth come across such an opportunity like this prestigious one by Sir Tony's Foundation, it gives us hope for the future. Thanks so much
This is an opportunity to be seized, I invite us "women" to come massively to register. Because I know that we have full of practicable projects for our beautiful continent. Be not intimidated! The important thing is to take part and especially to believe in you and in your ideas and projects. Let us bring our stone to the construction of the building AFRICA and let us make the difference with the strength which is in us.
Enlisting in TEEP is one of the greatest thing that happened to my business this year.
I made it! History have been made in 2015, Africa is now or never to become a developed continent.